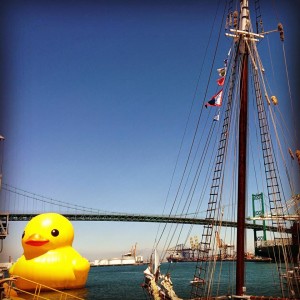 I don't have an actual, physical Bucket List, but I do have one in my head that I like to update now and then. Last year I was able to scratch two things off at once: I saw the Big Rubber Duck and the Oscar Meyer Weinermobile.
My wife and I made our way down to the Port of Los Angeles. We'd scored free passes to the Tall Ships Festival from Yelp and we made the trek to see the ships, but mostly to see the Big Rubber Duck. It's nothing but truth-in-advertising: it's a big rubber duck. Everybody loved it and we were just two of the many people taking pictures with this large-size piece of silliness.
What we didn't expect was the Weinermobile. I'd always hoped to see it on the freeway, but this was even better. After a few photos, we were satisfied with our two-for-one brush with over-sized novelty objects and called it a day.
Silly? Yes. Fun? Yes. Could I have lived a full life without ever seeing either? Of course. But it felt good to take two items off my Bucket List, nonetheless.