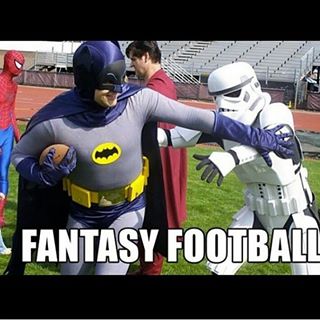 I was patting myself on the back yesterday after nabbing free agent running back Matt Jones from my league's waiver wire. We're an auction league, so all free agents are up for bid on Tuesday and the results are announced Wednesday.
It's a much better system than the standard waiver wire priority that most leagues run. Several years ago, my league switched to the auction format for our draft and our free agent acquisitions. I couldn't be happier since it eliminates a lot of the luck during these two parts of the game.
Standard snake drafts have you at the mercy of a random draw for draft position and the first two rounds are usually predictable. So if you were stuck at the bottom of your draft order year after year, you weren't going to get an elite running back unless one of your late-round sleepers panned out.
Good luck with that.
Auction drafts give every owner a chance at their favorite players. There are no excuses for not getting a top player. If you want him, pay the highest amount. Simple and effective.
Likewise, the old waiver wire priority system never worked out well. You were at the mercy of the running list of teams; either you were next up to sign a free agent or you weren't.
Acquiring free agents via auction, though, requires more skill. Again, it's better than the old priority system because every owner has a shot at signing a player. You either pay enough or you don't.
The trick with the free agent auction, though, is that it's a silent bid auction. It can be brutal trying to figure out how much the other owners will pay for a player. Sometimes you're outbid, other times you overpay.
Matt Jones was the hot prospect after last weekend's games and in my league, there is no such thing as a player slipping through the cracks. Everybody's too smart and too informed to let any decent player go unsigned. So it all comes down to who can make that perfect bid.
It looked like I did when I landed Jones for $34, outbidding several owners (the next closest was $30). I talked some trash (an unwritten fantasy football rule) and got ready to see my new player turn around the fortunes of my 0-2 team.
Not only did Jones fumble away a touchdown tonight, he also didn't even score two points for my team.
That's fantasy football in a nutshell: one day you're a genius, the next you're clueless.