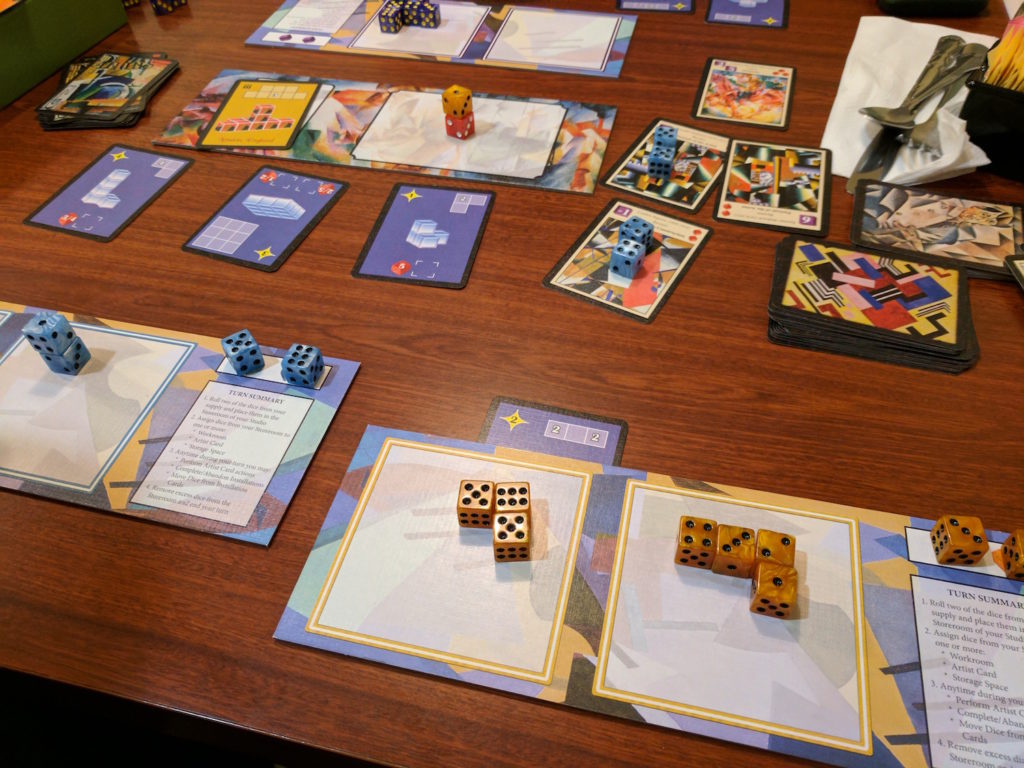 Technically, my Every Night Is Game Night: My Daily Play & Blog Challenge is over, but I missed a few days so I'm writing about other games I played during May. This is post no. 31, so consider my quest completed. What are you playing these days? Tweet me and let me know!
---
I'd heard good things about Cubist, but didn't really know what to expect. I knew it was some kind of dice allocation and puzzle game, but that was it. One of the guys at my Thursday night group had Kickstarted it, so I finally got a chance to play it. After a few turns, I knew my wife would like it, so I made sure to add it to my Amazon wish list.
Players are architects building art installations, using their rolled dice to complete the works featured on the community cards. The first one to complete the card collects it and earns the victory points listed. There is also a museum card that all players contribute dice to and they'll score points there, too.
Dice placement rules are simple to learn: you may place dice adjacent to each other if they are one more or one less. You may place dice on top of each other if they are of equal value. So, place a 2 next to a 3 or stack a 1 on top of a 1, etc. You place the dice on your "work room" (your player mat), then remove the dice when you've completed an installation.
Turns go quickly and I loved the theme. There's a nice way to mitigate bad rolls, in the form of artist cards that you can claim for a special action.
After I played Sagrada I was asked if it replaced Cubist. There are similar features (dice allocation, special powers, and a puzzle-like mechanism) and while I lean toward Sagrada as the better game, I enjoyed both equally. Sagrada might be easier to pick up for new gamers, but it fails in the accessibility department (colorblind players may have trouble with it).
Cubist, on the other hand, has the cool three-dimensional element to its puzzle, as you try to complete your works and it doesn't overstay its welcome. It's a solid game that I hope to see on the tabletop again soon.