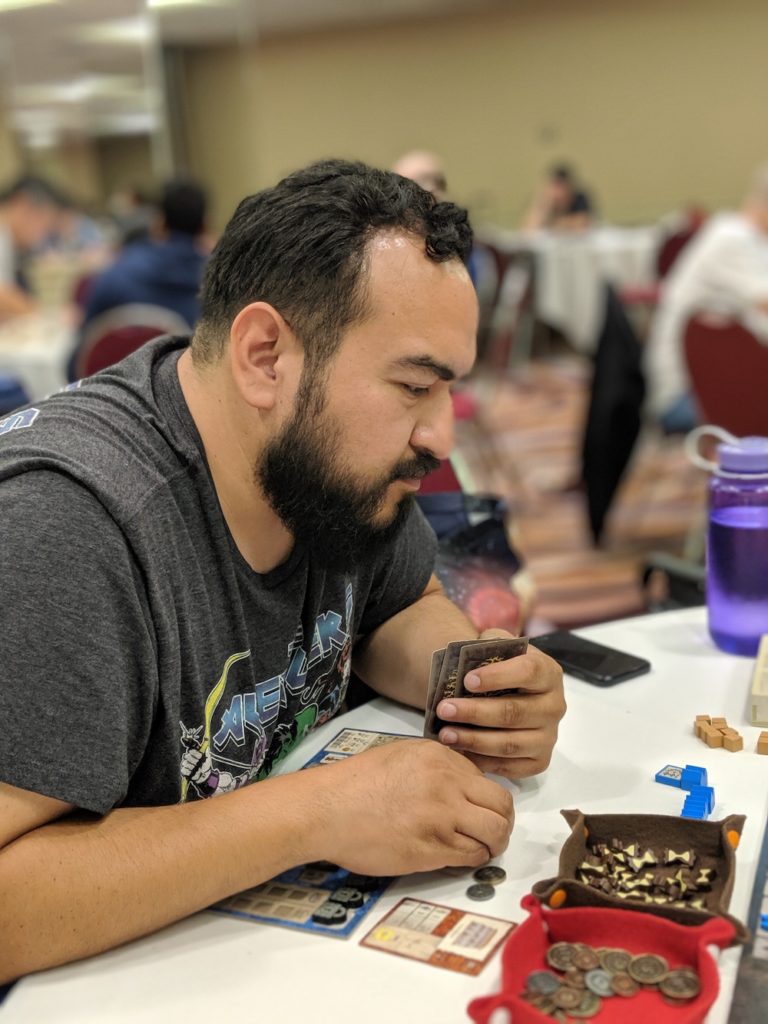 You know how you just get along immediately with certain people? That's how it is with me and John Gonzalez. I've known John (aka Book Of Nerds on Twitter and Instagram) since August of last year, but it feels like we've been friends for much longer, thanks to random conversations on social media.
A former teacher, John is also a writer, miniatures painter, and podcaster. While I've gotten to know him through the many hours we've spent playing Twilight Imperium Fourth Edition, I asked John to talk about his journey into the board game hobby for this re-launch of Humans of the Tabletop.
Fifteen years ago, John Gonzalez, his wife Lorena, and his sisters would gather at his mother's home for family game nights. Well-worn classics like Monopoly, Clue, or The Game of Life usually hit the tabletop during their regular gatherings.
"Eventually, I bought Betrayal At House on the Hill," John recalled. "It was an illuminating experience as far as teaching goes. I had a really hard time teaching the game, mostly due to inexperience."
When work and school began to take up everyone's time, the game nights ended. It wasn't until a train ride in 2009 that John re-discovered modern board games, learning Dominion during the trip to Seattle for PAX. Although he loved the deck-building classic, he had doubts about his family's response to game.
"At the convention, I learned how to play Munchkin," he said. "Knowing that it would be a hit with my family, I bought a copy and we started having family game nights again."
Fast forward a few years and John found himself at the newly opened Game Haus board game cafe in Glendale, California, thanks to an invitation from Oscar, a friend of Lorena's sister. After playing Indigo, Chinatown, and Bohnanza, John and Oscar began meeting up for more games together.
"Lorena and I started playing more games at home as well," he said. "Our collections have grown these past few years and it's been our main hobby since then."
As his passion for the hobby grew, John began honing his skills as a board game teacher. Drawing on his years of experience as a substitute teacher, John utilizes techniques from the classroom when he's teaching games.
"When I learn a new game, I start thinking about how to teach it, breaking it down into digestible chunks," he said. "I make an outline in my head and identify the tricky bits. I think about the student, their familiarity with modern board games, and how convey the rules in a way that is approachable."
Even when he's not teaching a game, John is constantly analyzing how people teach a game to him, watching the methods they use. He loves learning games for two reasons: "I'm learning a new game (yay!) and I can pick up new teaching techniques."
His enthusiasm for learning new things helped him make the leap into podcasting, as he recently joined The Five By board game podcast. "I'm a huge fan of the podcast, so I'm very excited about being one of the hosts," he said. "Writing a five-minute review is decidedly different than writing one for a blog. I found myself having to be more succinct and to the point. It's a different beast and I'm still learning, but I'm really energized and I love learning and developing new skills."
Outside of board games, John and Lorena are regular participants in Extra Life, a 24-hour gaming marathon where gamers raise money to support local children's hospitals.
"Gaming means gathering around a table with friends and having a good time, sharing some laughs, and having a bit of friendly competition.It's an opportunity to be social and meet new people."
Inspired by Brandon Stanton's Humans of New York, Humans of the Tabletop is an ongoing series about the people I've played games with. Click here for past Humans of the Tabletop.