This is Day 30 of my Game-and-Blog-Every-Day-in-November Challenge. Search my blog for "Daily Game Challenge" for previous entries.
SteamRollers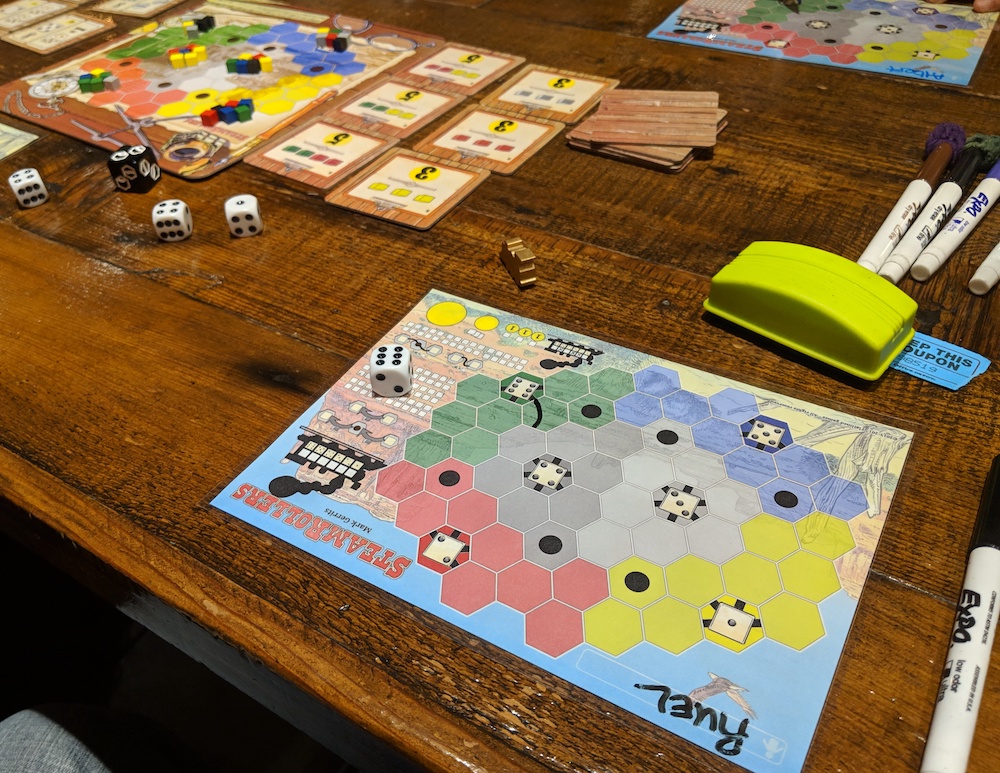 It's no secret that I love roll-and-write games. Rolling dice and marking a sheet of paper reminds me of childhood games of Yahtzee and it's great having so many designers embrace the mechanism lately. SteamRollers was actually released in 2015, but was picked up by Stronghold Games and reprinted in May of this year. It's been on my wish list since I played my buddy Tony's copy at our local GenCant event, and I was fortunate to pick it up via trade at Strategicon in September.
You and your opponents build a railway network on your scoresheet and attempt to deliver goods to the various cities on the main board. On your turn, roll dice and select an action: build a track, upgrade your engine, deliver a good, or take a special action card. You score points based on the goods you've delivered, your railways, and bonuses.
I was an insta-fan of SteamRollers; I loved the mashup of pick-up-and-deliver and roll-and-write. It's light and quick, and there are ways to mitigate bad rolls via the special action cards. Games last anywhere between 20 and 45 minutes, depending on player count, and the solo game is a good challenge. Fans of more in-depth train games will appreciate how quickly the game plays; if you don't have a whole day to spend building up railroads and upgrading engines, SteamRollers may be the next best thing.