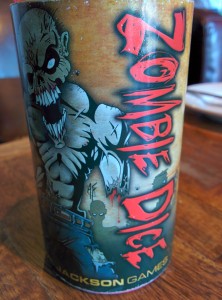 Continuing from yesterday's post on zombies, here are three other zombie-related things I like that I failed to mention:
The Cranberries "Zombie." I can make people laugh when I bust this out on karaoke night. Not sure if they're laughing at me or with me.
White Zombie. Okay, I don't like all of their music, but I used to kick butt on their song on Guitar Hero.
Zombie Dice, a game from Steve Jackson.
I came across Zombie Dice last year at the mind-blowing Game Haus Cafe in Glendale, California. The game was easy to learn and fun to play. A quick summary: you are a zombie. The 13 dice represent your would-be victims. Randomly pick three dice and roll them. A brain is good. A shotgun blast is bad. Footprints mean your victim got away. You can score the brains and end your turn or you can press your luck, get more dice and roll them for more brains. If you roll three shotgun blasts, your turn is over and you score none of the brains. First to collect 13 brains wins.
I wish I lived closer to the Game Haus Cafe. It's a wonderful place, perfect for gaming, and we've brought my niece and nephew twice since it opened after a successful Kickstarter campaign in June 2013. Parking can be a pain, but the place is still worth five stars (read my Yelp review here) and they offer 1,000+ board games, along with some decent food and drink. It costs only $5 for unlimited play during your visit. The game selection is staggering: all of the classics are available, along with newer games, popular Euro-style fare, and obscure titles. Shelf after shelf of games, arranged by content, will make any gamer's heart happy.
Two things I love about this place: first, there's no wi-fi available, so you'll have to talk (gasp!) to your buddies and/or opponents over games with actual pieces, dice, and tokens. Second, happy hour is Tue-Thu until 4pm: you'll pay only $2 for unlimited play.
View of Game Haus Cafe's shelves below (click the image to enlarge). There are two shelves around the corner that aren't shown. It's a large space, with lots of big tables, comfortable chairs, and, most importantly, friendly employees.