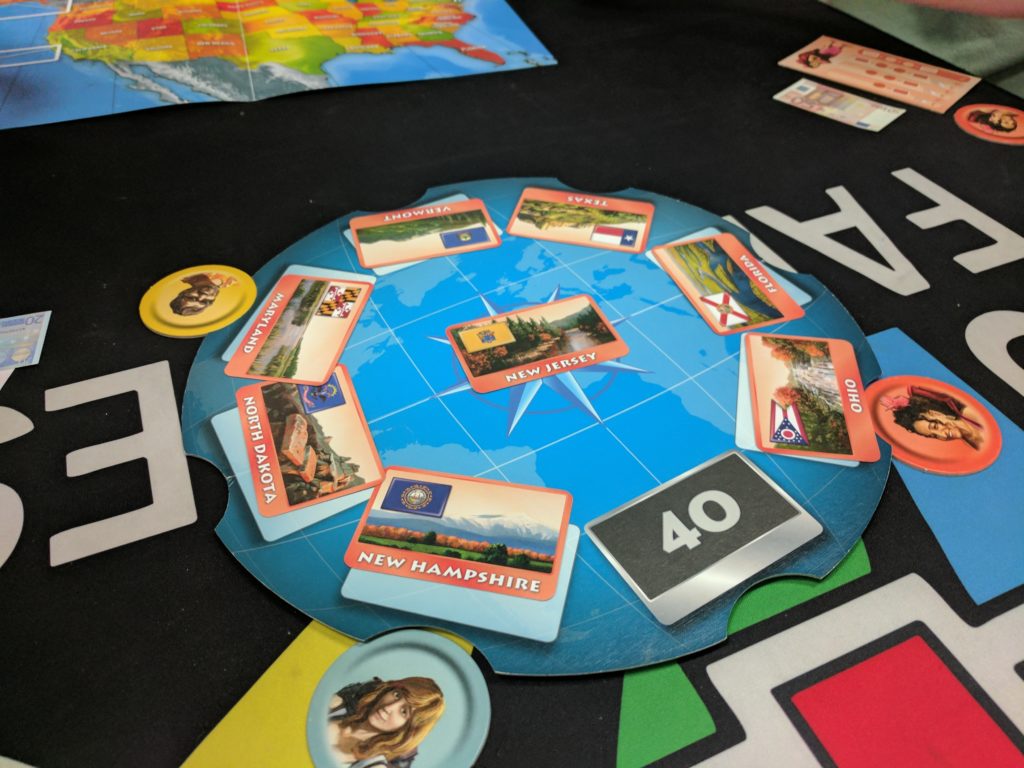 After bringing Travel Blog to my weekly gaming group for the umpteenth time, I was finally able to get it on the tabletop. It seemed like every time I brought it, there was always something else that I wanted to play.
I'd never heard of this geography game until I saw it listed at $5 during the last Strategicon flea market. I did a quick search on BGG and learned that Vlaada Chatvil was the designer. Yes, the same Vlaada behind Mage Knight, Through the Ages, Codenames, and so many other popular games.
For five bucks I'm willing to take a chance on nearly any game, especially one whose designer has such a fantastic track record, so I placed my bid and before I knew it, I was the proud of owner of another Chatvil.
In Travel Blog, 2-6 players are trying to earn the most money by blogging about their travels. Don't worry, there's no actual writing involved, but it does help if you know your geography.
The game can be played on either the U.S. or Europe map and players get 100 Euros (paper money alert!), two tokens, and a player aid. During each of the seven rounds there will be state (or in the case of Europe, country) cards placed face up in the middle. Next, one (in later rounds, two) card is flipped up and players quickly place their token (in later rounds, both tokens) on a state.
What determines the state that a player chooses? In the first two rounds, the middle state is the beginning of each player's journey and their chosen state is their destination. Each player will be scored separately by placing markers on the two states. To score, the player counts the number of state lines they cross during their trip from one state to another. Each line crossed costs 10 Euros and is immediately taken from that player's money.
One twist that I liked: if you pick a state that borders the state of origin, then you lose 30 Euros. So, you want to be close to that state, but not too close. Another option is to place your token on the 40 space, which means you pay 40 Euros and don't do any traveling. This is useful if you know that none of the states are close to the state of origin.
Finally, since state selection is done in real time, there's a penalty if you're too slow. If another player's token is already on your desired state, you can still place yours there, but it will cost you an additional 10 Euros.
For rounds 3-4, players receive additional money (it's easy to burn through your cash in Travel Blog) and place both of their tokens on two different states, with the state of origin being a middle point between their choices.
For rounds 5-6, players again received extra dough, and place both of their tokens on different states. This time, however, there are two states of origin so players must find the shortest route among all four states.
Finally, the seventh round is where players make money. All of the cards are reshuffled and players go through the same process as rounds 5-6, but instead of paying for each state line they cross, they earn money for each one. In other words, instead of wanting to be close to the state of origin, players want to be as far away as possible so they can go cross as many state lines as possible.
Travel Blog is a decent game that I liked, but didn't love. It's a good 20-30 minute filler that I'm sure will remain in my games library, thanks to its unique combination of geography, real-time selection, and route optimization.
I've now played 7 of the 49 games on my Shelf of Shame!
Shelf of Shame 2017
Agricola
Amerigo
Cheaty Mages!
Chrononauts
Cypher
Dice City: By Royal Decree
Dice City: Crossroads
Doomtown: Reloaded
Dungeon Fighter
Eminent Domain: Microcosm
Epic Card Game
Formula D
Get Bit! Sharkspansion
Guildhall
Guildhall: Job Faire
Hanafuda
Harbour
Imperial Settlers
Lost Legacy: Flying Garden
Machi Koro: Harbor
Marvel Dice Masters: Age of Ultron
Mottainai
Munchkin Legends: Guest Artist Edition
Munchkin Zombies Deluxe
NBA Interactive Card Game
Ophidian 2350
Pack of Heroes
Pandemic: On The Brink
Pathfinder Adventure Card Game: Rise of the Runelords Base Set + Expansions
Pingo Pingo
Portobello Market
Quiddler Mini Round
Rampage
Sail to India
Sans Allies
Santorini: Golden Fleece
Seventh Hero (Doomtown edition)
Space Base Mutiny
Steam Torpedo: First Contact
Suburbia
Sun Tzu
Tiny Epic Kingdoms
Travel Blog
Valley of the Kings: Last Rites
Viceroy
Vikings on Board
Viticulture Essential Edition
Wok Star
Yahtzee: The Walking Dead Collector's Edition