I'm posting about a game every day in September! Here's a link to yesterday's post.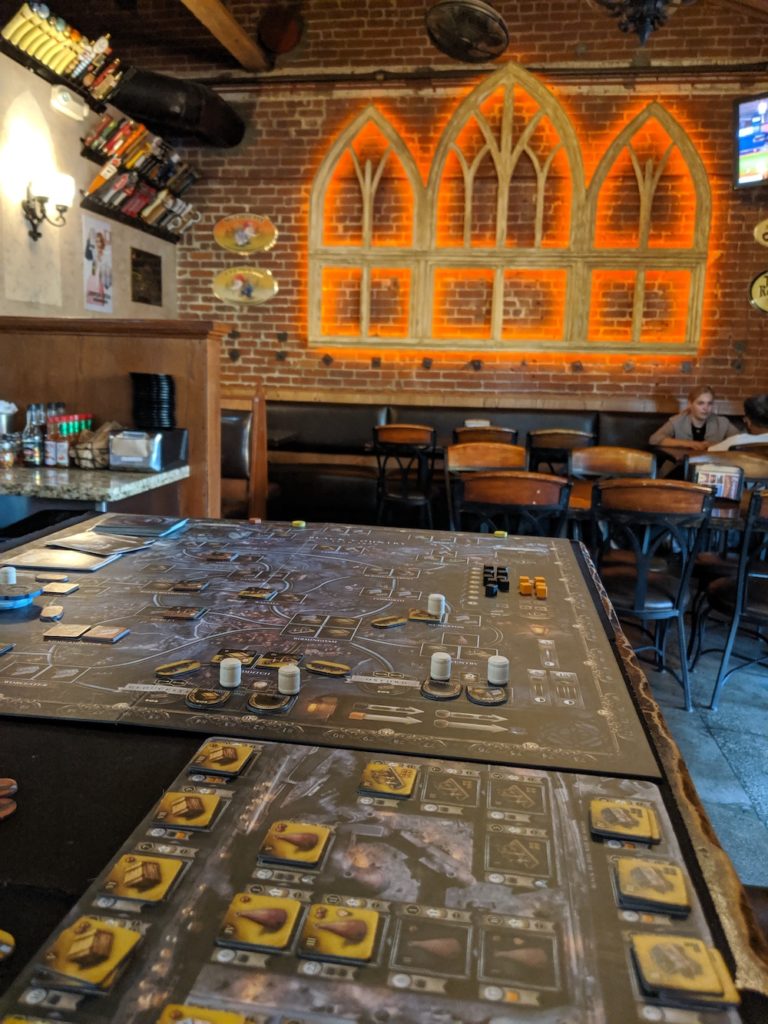 Tonight I got to play one of my favorite games, Brass: Birmingham. I've previously reviewed it on The Five By, so please click here to hear my thoughts on this heavy Eurogame.
I met my buddy Jake at Congregation Ale House in Pasadena for board games and beers. It was my first time at a Congregation (there are a few locations in different parts of L.A.) and I instantly fell in love with the place. Big game-friendly tables, good beer, and tasty pub food are a combination that I cannot resist.
The church-inspired decor is really cool, giving Congregation a sort of goth feel. The music was generally a mix of old and new rock, and the volume wasn't obnoxiously loud, which is something I appreciate more with each passing year. It was the perfect setting for board games and beers.
It'd been a while since I played Brass: Birmingham and I forgot how much there is to the game. The basics are easy (take an action, discard a card), but the rules of consuming beer/iron/coal always trip up new and experienced players. Thankfully, Jake knows board games and was able to make sense of what I was trying to explain.
After our game I wanted to play Brass: Lancashire, which is closer to the original Brass game rules (Birmingham being its standalone sequel). Lancashire doesn't have Birmingham's funky beer rule, where you're required to consume beer when selling certain items.
Speaking of consuming beers, Congregation Ale House is an outstanding choice for your next beer-centric outing. I had an excellent Russian River Blind Pig; it was a refreshing, citrusy IPA that reminded me why I still enjoy the occasional beer. It also reminded me that I need to visit Congregation Ale again real soon.