It'd been awhile since I last played 7 Wonders and I was thrilled when it hit the table today. It's now considered a classic gateway game, but its scoring (especially the science structures) can seem like too much for new gamers.
In 7 Wonders you and your opponents are building your empires over three ages (rounds). Of course, no empire is complete without an architectural wonder to attest to its greatness and each player has an individual board representing the one that they're building (The Statue of Zeus in Olympia, the Pyramids of Giza, etc.).
If I was teaching this game to new players, I'd teach Sushi Go! first to get them familiar with the card-drafting mechanism. It makes for the perfect segue, since you'll be drafting cards throughout 7 Wonders.
Everybody starts with seven cards, then chooses one and places it face down. All cards are revealed simultaneously, then you either build the structure, discard it for money, or use it to build one stage of your wonder.
All cards are structures and produce either resources or victory points. In the first age you'll be able to build some structures for free, but most of the time the structures cost either money or resource(s) to build. If your empire is producing those resource(s), then you can build the structure for free. If not, you can buy the resources from your neighbors on either side of you. Some of the structures in the early ages allow you to build others for free later in the game.
That's the basic gist of the game. Play ends after the third age and victory points are awarded for each type of structure you build. The trickiest to score are the scientific structures, but it's basically set collection and a multiplier.
---
The word elegant is used to death in board game reviews and sometimes my brain is too tired to think of a better way to describe a game. Elegant, though, is how I'd describe 7 Wonders. You have cards, you choose one to play, then you play it and pass the rest to your opponent. Simple, effective, and silky smooth.
Where 7 Wonders gets its depth is from its multiple paths of victory. You can go heavy on the military, pummeling your opponents for VPs after each age. Or you can build up your science structures, hoping to complete sets of three different symbols to score the most points.
There's a decent amount of interaction, too. Obviously, you're passing cards around every turn, but if you're paying attention to your opponents, then you can draft the cards that they need. Or you can choose to build resources that you know they'll need to buy from you. Or you can simply discard the cards you know they're waiting for.
Best of all, the game plays quickly, no matter the player count. It's easy to play simultaneously, as long as you keep track of money and who's paying whom for what.
For those thinking about getting the game or teaching it to new gamers, I highly recommend downloading these two apps:
Augmented 7 Wonders (free on Android and iOS). An amazing and simple-to-use app that uses augmented reality to explain each card and player board.
For example, if you need help remembering what the Vineyard did, simply open the app and point your phone's camera on the card. A text explanation hovers over it. Awesome!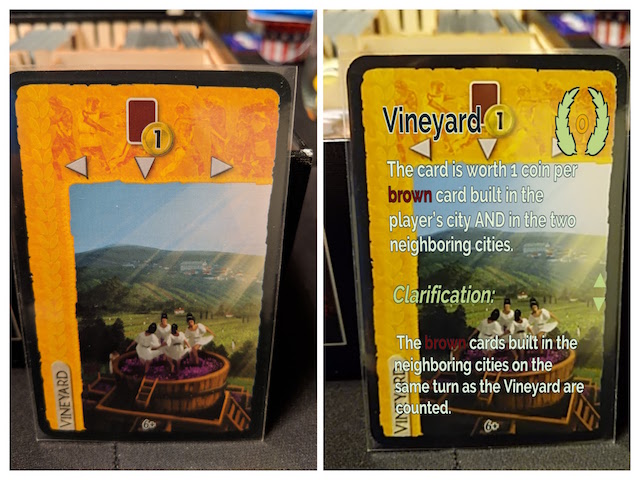 And it works on your player board, too!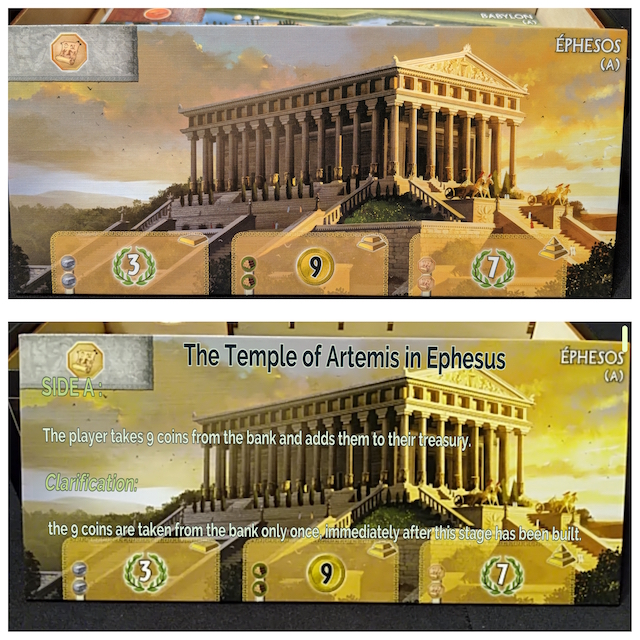 7 Wonders Score Sheet (free on Android; there are some paid options for iOS). There's a score pad included in 7 Wonders, but this app does all of the math for you, including figuring out those pesky science structure scores and converting your money into points. Just punch in the numbers and the app does the rest, including applying any tiebreakers. The app supports all of the expansions as well.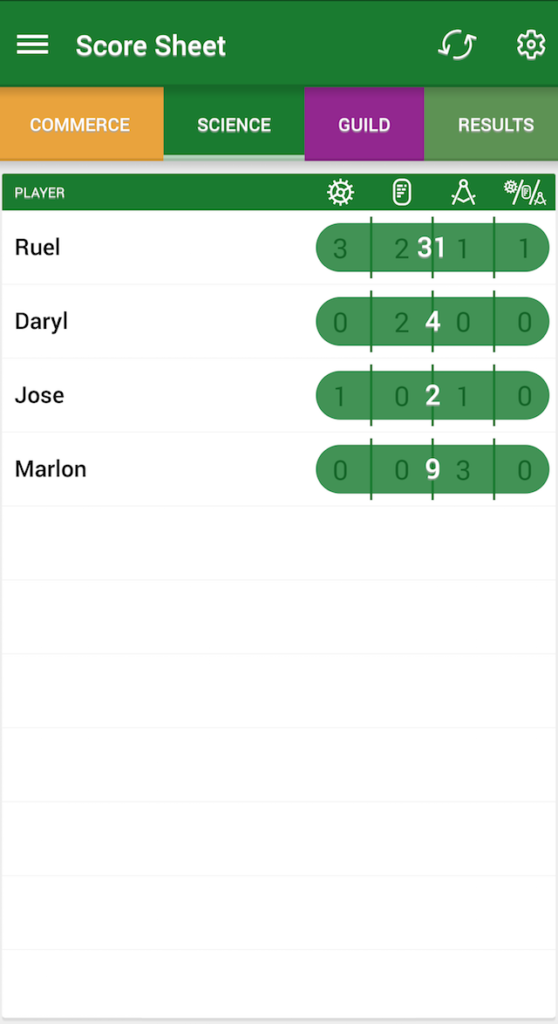 With these two apps you can easily teach new players or get your regular gaming buddies to revisit this classic game. I'm glad I did!
Update 6-27-18: You can listen to me read this post on YouTube.