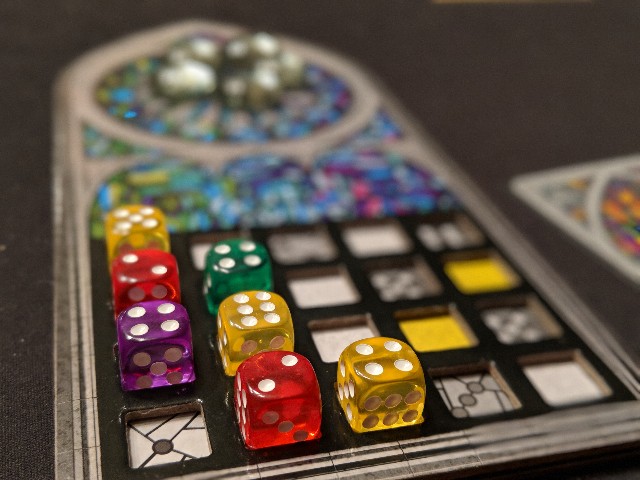 (You can listen to me read this blog post on YouTube here) 
Last week I completed my 5×5 solo game challenge! This was inspired by the yearly Board Game Geek 10×10 challenge in which BGGers try to play 10 different games 10 times within a calendar year. I've successfully done that challenge the last two years and I'm over halfway done with my 10×10 for 2018.
I added a solo challenge this year because I love playing solo board games. I'm glad that publishers have been including more solo rules in their games lately, but I still get funny looks when I tell people I love playing solo games.
Some people ask why, as if there's something wrong enjoying a board game by yourself. I get it, though; they want the thrill of competition or the camaraderie that comes with sitting at a table with others.
Years ago my wife and I would occasionally spend an evening working on a jigsaw puzzle. In fact, it was with her that I actually completed my first 1,000-piece puzzle. It was something I'd never tried to do or thought would interest me, but it was a totally satisfying experience. We wouldn't complete the whole thing in a night, but we'd work on it throughout the week, sometimes separately whenever we had a spare moment. Once it was done, we'd start a new one.
In a sense solo board games are like jigsaw puzzles for me. It's just me trying to figure out a way to win or score the most points. There's no pressure to act quickly or watch what others are doing. And if I want to leave midway through a game, that's perfectly fine. I can finish the game the next day or the next week or whenever I feel like it.
Other friends who aren't into solo games always mention that they'd rather play video games by themselves instead of a board game. I always respond the same way: "Great!" If that's your form of entertainment, more power to you. Personally, since I'm on the computer and/or checking my phone most of the day, the last thing I want to do to relax is something that requires electronics.
No, I prefer analog entertainment to wind down the day. Give me good ol' cardboard, dice, chits, cards, pawns, etc., and I'll enjoy an hour or two at the tabletop.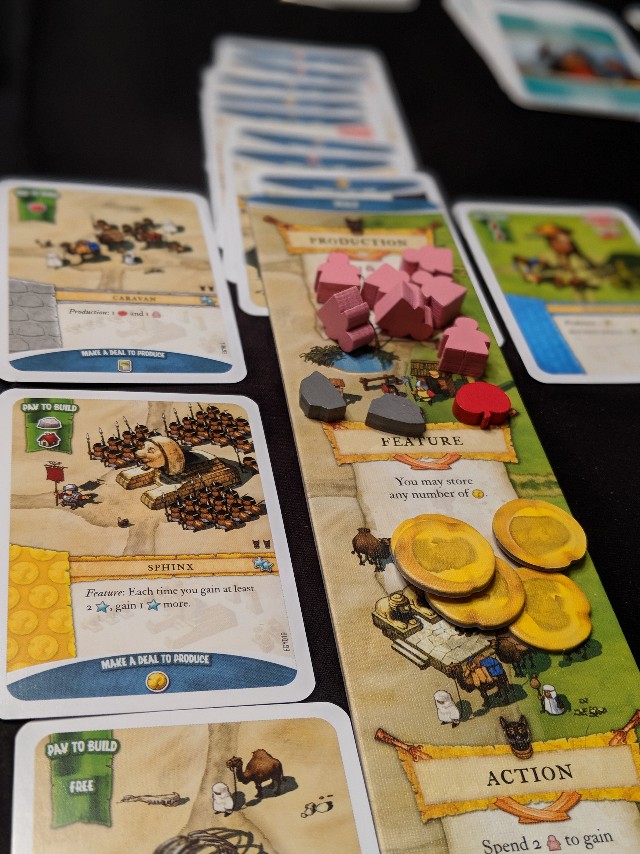 Here's a quick look at the five games I solo-ed five times (or more) this year:
1. Cat Rescue. I liked Ta-Te Wu's cute cat-themed game that he successfully Kickstarted this year. It was this neat little puzzle that only required 15 minutes to play. Funny, AEG came out with Cat Lady a few months later that reminded me of his game.
2. Dice Stars. Thanks to my Board Game Twitter buddy Odin Phong I was able to score a copy of this Bruno Cathala dice game. I can knock out a solo game in under 10 minutes and I love how tough it is; I've only won 4 times out of the 13 games I've solo-ed.
3. Imperial Settlers. I joined my first online solo league and it was a blast! A bunch of us BGGers signed up for the four different base game factions and we battled it out for a few weeks until one faction was standing. I joined the Egyptians since that was the faction I had the least amount of experience with and even though we were the first to be eliminated, I learned a lot.
4. NMBR 9. I borrowed my friend's copy for a week and my wife and I enjoyed this game a lot. It reminded me of those jigsaw puzzles we'd work on together all those years ago. It's more dynamic than a standard puzzle, though; the tiles are randomly drawn every game, creating a new challenge every time. When my wife and I weren't playing, I'd sneak in solo games that could be finished in about five minutes.
5. Sagrada. Until Azul came along, Sagrada was the puzzle-style game that everybody was talking about. It's funny how the Cult of the New works; sometimes if seems like games have a shelf life of a week before something else is all the rage for the next week. While Sagrada did get a lot of love when it first came out, it seemed to lose some of its luster when Azul showed up. I still find this dice-roller to be a lot of fun at any player count and the solo game is hard. I only won once in eight tries for this challenge so it looks like I'll be dusting off Sagrada soon to redeem myself.