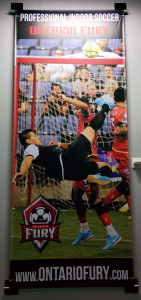 Since moving to the Inland Empire years ago, I've become a minor league sports fan, thanks to the close proximity of two excellent franchises: the Rancho Cucamonga Quakes and the Ontario Fury. I'll write about the Quakes as we get closer to baseball season. For now, I'll focus on the Fury.
The Fury began playing in Ontario in 2013 as part of the Professional Arena Soccer League (re-branded as the Major Arena Soccer League for the 2014-15 season). My wife bought tickets for my birthday last year and I was instantly hooked: it was soccer on fast-forward, with lots of action and an unexpected dose of physical play. What I appreciated most was that the Fury might be a minor league team, but the experience was as good as any major league sport. They play home games at Citizens Bank Arena, which is a diminutive version of the modern sports arena, with all of the amenities of the big leagues, yet better sight lines due to its smaller size. Like other minor league teams, the Fury offer a family-friendly event; local businesses sponsor giveways and silly halftime contests.
Last night we had VIP seating, compliments of my wife's win in a Fury social media contest. She thought we'd won general admission seating and as an usher showed us to our seats, we were pleasantly surprised when we were seated at front-row, glass-side tables and had access to the VIP bar area. I enjoyed my beverage as we rooted for the Fury as they held off the Harrisburg Heat, 10-9. My favorite moment? Former UCSB Gaucho Tino Nunez scoring on an awesome bicycle kick. It was a major league play, no matter what jersey you're wearing.
Note: I've tried for years to like hockey, but it's just not for me. However, I should note that the Ontario Reign, the local minor league hockey team is highly regarded as well. Since they're affiliated with the Los Angeles Kings and I love all things L.A., I'll eventually get around to seeing them.