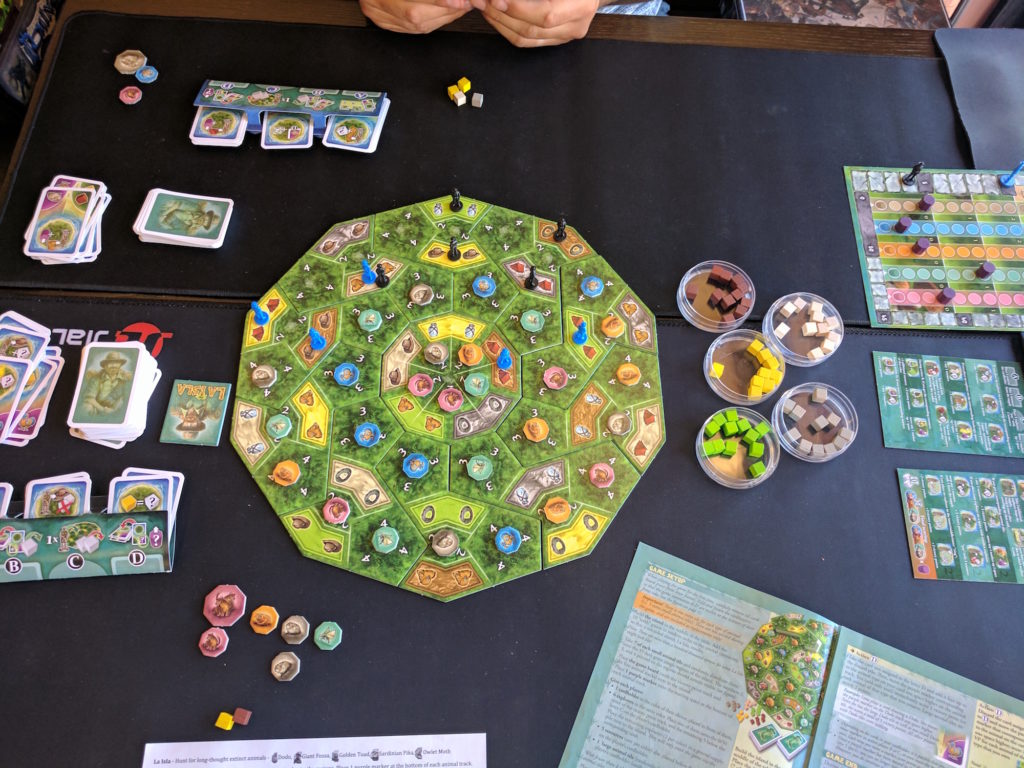 I'm playing a board game every day this month and blogging about it (I did a similar challenge last year). Feel free to join me during my Every Night Is Game Night: My Daily Play & Blog Challenge. And tweet me with what you're playing these days!
---
I didn't play a game or blog about it last night. My reason is pictured below:
My wife and I had a date night in L.A., compliments of Yelp. We're fortunate to both be Elite users and occasionally attend Yelp Elite Events, which are always filled with food, drink, and good times. Last night's was no exception, with a small group of us stuffing ourselves silly at the hot new barbecue spot in Chinatown, Belle Belle's Cue.
After feasting on smoked brisket, pulled pork, turkey, and ribs with all the fixings (mac and cheese, creamed corn, potato salad, beans, coleslaw, pickles, and white bread), we were in a food coma the rest of the night. The games remained on the shelf, but we did watch a few episodes of Master of None before finishing it tonight (my spoiler-free reaction here).
Today we ate our leftovers, then I met up with my friend Daryl for some boba and board games. We played Ethnos, Stone Age, Kanagawa, and La Isla. Although the boba shop's air conditioning wasn't performing at its peak, it was still a nice break from the 90-degree heat wave.
Most gamers call La Isla a Stefan-Feld-light game and it's an appropriate description. It's a point salad game with interesting card play, set collection, and area control. It seems like every time I get this to the table I need a rules refresher, but that's okay. Game play always picks up after a few turns and a two-player match is about 30 minutes.
In La Isla, players are explorers trying to capture animals that were thought to be extinct (the dodo, for example). Animal tiles are randomly placed throughout the island and players use cards and resource cubes to bring their explorer tokens onto the board. If a player surrounds an animal tile, then they add the tile to their collection. Points are earned each turn (and the end game scoring) based on the animals you have.
Players take four actions each turn and three of those are based on the cards they play (three are drawn every turn). Each card is broken up into three sections: the top is for the first action, the bottom left is for the second action, and the bottom right is for the third. It's always interesting to choose which parts of the cards you'll use for each turn. Quite often, you're giving something up to gain something else.
The first action is placing a card into the player's card holder. This gives bonuses on subsequent actions. The second action is collecting a resource. The third action is moving one of your explorers. Finally, the fourth action is moving a scoring tracker up a space. If you have that animal type, then you score points.
There are several other ways to score points throughout the game, primarily through the action cards that you place in your card holder during the first action. What I like about La Isla is that the card holder only holds three cards, so your bonuses are constantly changing. The set collection element comes into play as you gather animal tiles. For each complete set of five, you get 10 points at the end of the game.
I really like La Isla. It's not the most intuitive game at first, but once you get into it, it's a simple and quick Feld. Unfortunately, like other Felds, it has cubes and cards and a board whose colors won't make it easy on colorblind players. Thankfully, I play with some easygoing people who don't mind helping me out whenever I have color-related questions.