This is Day 15 of my Game-and-Blog-Every-Day-in-November Challenge. Search my blog for "Daily Game Challenge" for previous entries.
KeyForge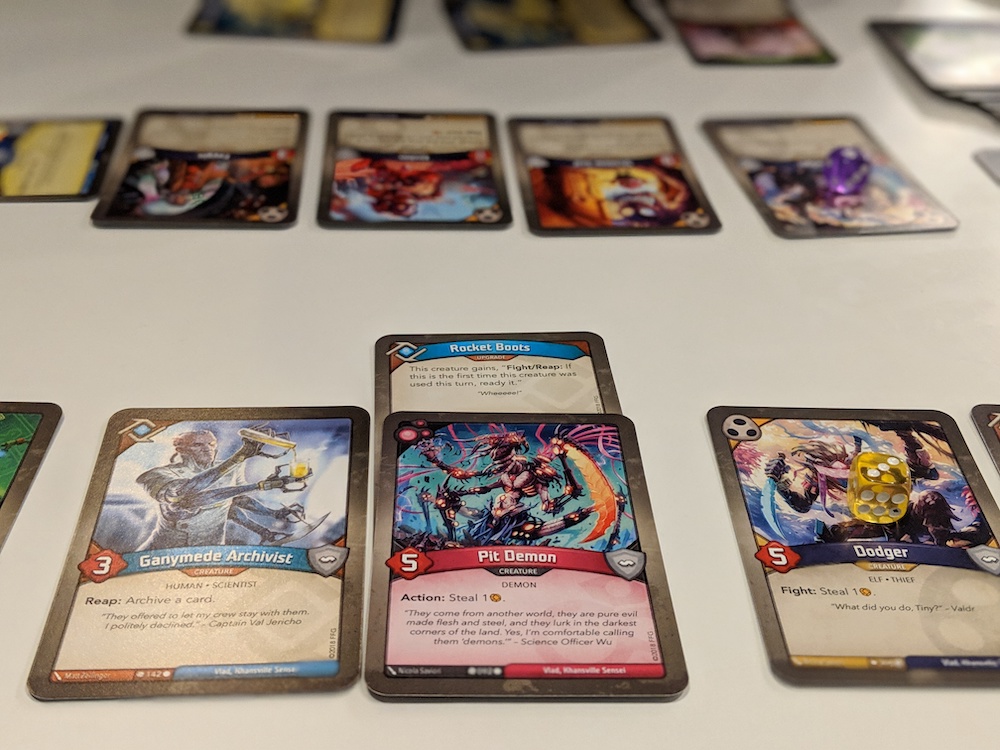 The new hotness reached retail shelves today and I was fortunate to play a game tonight. KeyForge from Fantasy Flight Games comes from renowned designer Richard Garfield, who created a little game called Magic: The Gathering, which you may have heard of.
I'm not a collectible card game fan. Never have been, never will be. I've played Magic and enjoyed the game play and appreciated the mechanisms, but not enough to take the plunge.
KeyForge does away with the CCG business model and retains some of the, um, magic of Magic with its card play and one-on-one battles. Every deck is unique, but the basic game play is the same: open your deck, shuffle up and deal yourself six cards (first player gets seven, but can only play one to begin the game).
There are seven houses/factions that are on the various cards. On your turn, draw six cards and announce one of the houses. You may then play or discard one or all of that house during your turn. After you're done, draw back up to six.
Simple, right? Ah, but there's so much more. As you start laying out your creatures, you can start attacking your opponent (creatures enter the game exhausted so you won't be able to use them until your next turn). Items, upgrades, and artifacts are available to help your attacks and other additional actions.
But you don't win by simply beating up your foe in KeyForge. True to its name, you're trying to be the first to forge three keys. You do this by reaping embers from certain cards. If you have six embers at the start of your turn you may forge a key and get closer to victory.
I liked the game play of KeyForge. I'm not a Magic expert by any means, but for me it felt like I was playing Magic. I'm sure it'll be fun buying decks and seeing how they play against each other; it's an amazing idea, having different cards in every deck, without having to chase rare cards.
While I won't be getting into KeyForge, I can certainly see its appeal and would definitely recommend it for fans of CCG game play. Maybe I'll buy a deck to keep on hand when another player shows up with theirs. Or maybe I'll buy two decks so I can play the game with new players. Of course, three or four decks would be nice to keep things fresh … looks like Fantasy Flight Games has created another money-printing machine.