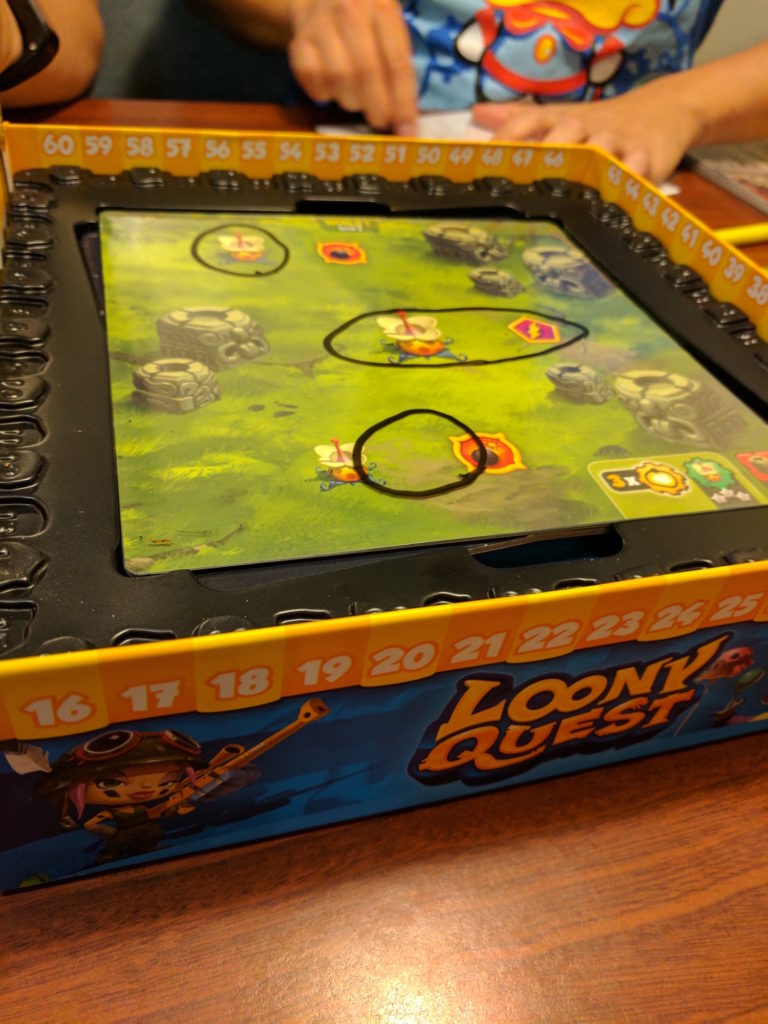 I'm playing a board game every day this month and blogging about it (I did a similar challenge last year). Feel free to join me during my Every Night Is Game Night: My Daily Play & Blog Challenge. And tweet me with what you're playing these days!
I had work to finish tonight, so I just stopped by the Thursday night game group for an hour. I just chatted with my buddy Patrick while watching a game of Glory to Rome when a few of the other regulars showed up.
Since I didn't have much time, we decided to play Loony Quest. It was the first time for most of us and we all had a blast. Loony Quest is a drawing game, but it's different than any other drawing game I've ever played. Each player receives a transparent sheet and erasable pen. A full-color picture of a "world" is placed in the box (which doubles as a score track) and players must draw on their transparencies to complete quests within a short time limit.
What were we drawing? Simple lines connecting a starting position to an end, while also touching the icons for points and power-ups. It's easier than it sounds, though, since you're drawing on the transparency. After the time is up, everybody takes turns putting their transparency on the picture to see how they've done.
You lose points if your drawing touches a bomb or other obstacle and you gain points for completing quests on the world (such as circling or touching icons). Power-ups give you tokens with special abilities (such as being immune to one bomb) while penalties will hinder your next turn, like forcing you to draw with your off-hand, close one eye while drawing, etc. At one point I was drawing with multiple penalties on me and it was absolutely hilarious.
Looney Quest was like a cool analog version of a video game and it was an insta-like for me. I can't wait to add this to my game library and it'll be perfect for my family game nights.