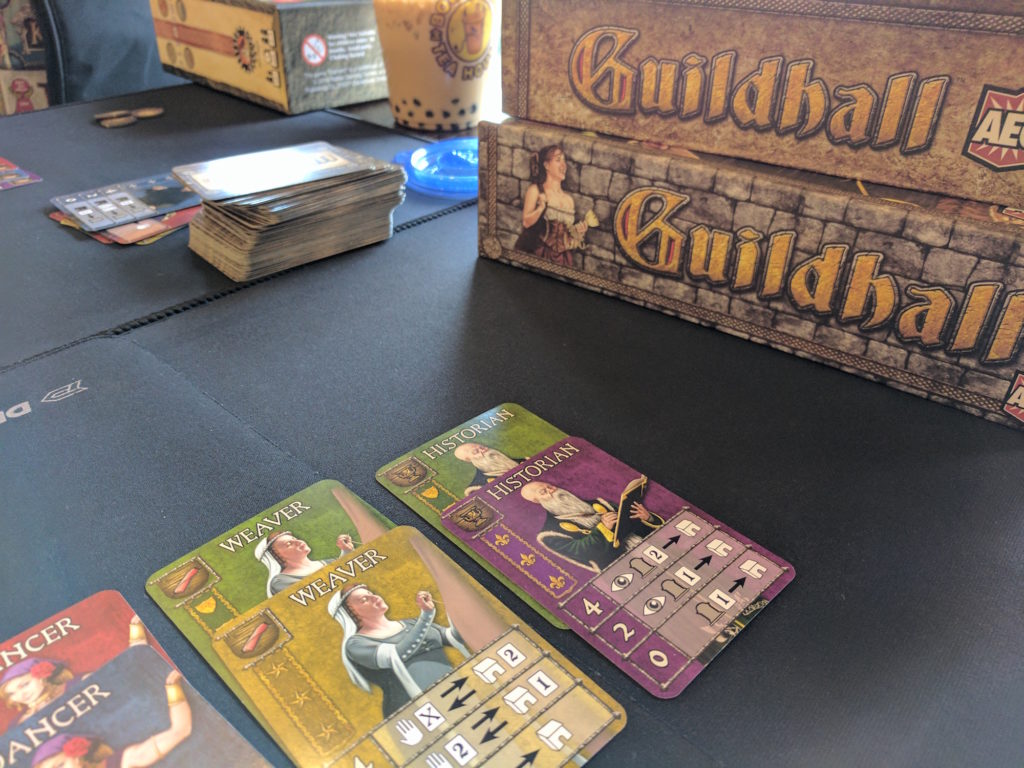 This is my continuing series on clearing games off my Shelf of Shame (games I own that I've never played). 
---
I'd heard that Guildhall had excellent card play in spite of its bland artwork. After I scored a copy of it and its expansion Job Faire, they went unplayed as other games grabbed my attention. Then my buddy Daryl demo-ed the Guildhall: Fantasy re-theme and it inspired me to get my copy off my Shelf of Shame.
Guildhall is a card game of set collection with a bit of "take that" that's easy to play once you figure out the iconography, which is the biggest obstacle to learning the game. Some of the icons are not intuitive and I find myself referring to the rulebook more than I like to.
Each card represents a worker (Historian, Dancer, Assassin, Farmer, etc.) and has a special ability. Players are trying to reach 20 victory points first by playing cards for their special abilities before moving them into their guildhall. Each worker from each profession is moved into a guildhall as players try to collect a set of five different colors. These are converted into victory point cards, which sometimes have additional abilities.
Like other card games, it's interesting to see how to use the cards' abilities in different combinations. Since each player is limited to two actions per turns and a few other restrictions, you're constantly trying to maximize your turn to get as many workers into your guildhall while preventing your opponent from doing the same.
There are "take that" cards that allow you to discard single or whole sets of cards from your opponent's guildhall and this certainly won't appeal to those who don't like to see their hard work destroyed thanks to a lucky draw from their opponent.
AEG did the right thing with The Guildhall: Fantasy re-theme; not only does it look better, but the icons are a bit easier to understand (or maybe I'm used to them after a few more plays?).
Overall, I liked, but didn't love Guildhall. I'll play the Job Faire expansion and see if it's enough for me to keep the game, but probably not.
I've now played 9 of the 49 games on my Shelf of Shame!
Shelf of Shame 2017
Agricola
Amerigo
Cheaty Mages!
Chrononauts
Cypher
Dice City: By Royal Decree
Dice City: Crossroads
Doomtown: Reloaded
Dungeon Fighter
Eminent Domain: Microcosm
Epic Card Game
Formula D
Get Bit! Sharkspansion
Guildhall
Guildhall: Job Faire
Hanafuda
Harbour
Imperial Settlers
Lost Legacy: Flying Garden
Machi Koro: Harbor
Marvel Dice Masters: Age of Ultron
Mottainai
Munchkin Legends: Guest Artist Edition
Munchkin Zombies Deluxe
NBA Interactive Card Game
Ophidian 2350
Pack of Heroes
Pandemic: On The Brink
Pathfinder Adventure Card Game: Rise of the Runelords Base Set + Expansions
Pingo Pingo
Portobello Market
Quiddler Mini Round
Rampage
Sail to India
Sans Allies
Santorini: Golden Fleece
Seventh Hero (Doomtown edition)
Space Base Mutiny
Steam Torpedo: First Contact
Suburbia
Sun Tzu
Tiny Epic Kingdoms
Travel Blog
Valley of the Kings: Last Rites
Viceroy
Vikings on Board
Viticulture Essential Edition
Wok Star
Yahtzee: The Walking Dead Collector's Edition