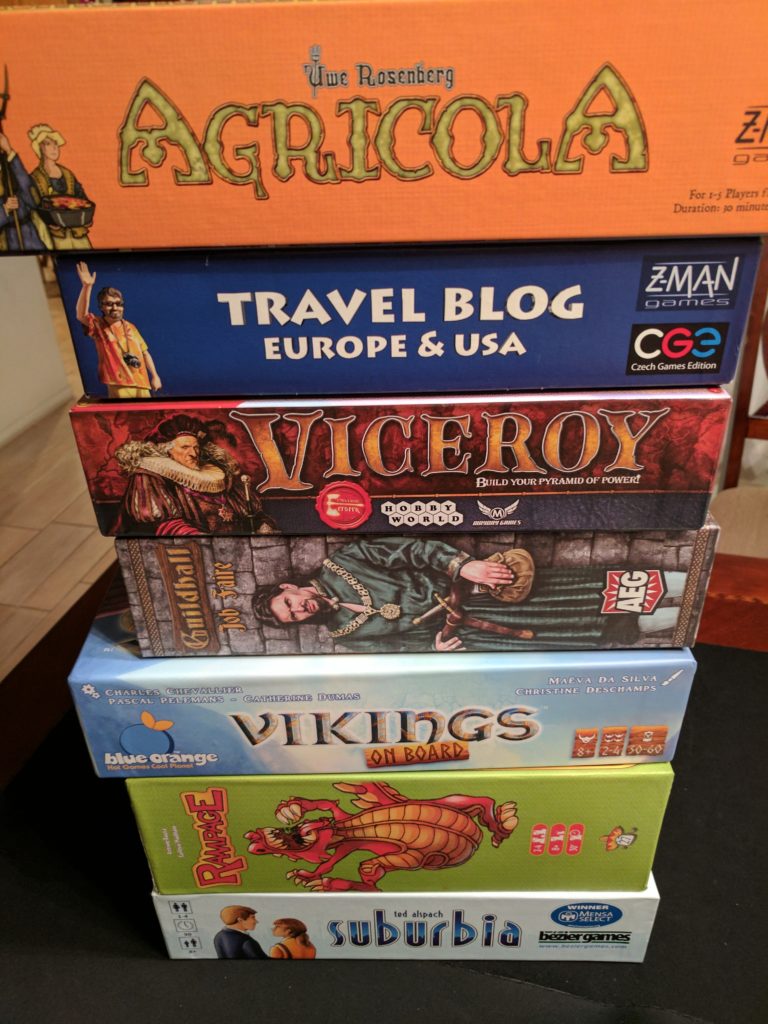 Pictured above is part of my Shelf of Shame: games I own that I haven't played. It's grown since last year, thanks to the great deals I've scored at each of the Strategicons' flea markets. At the start of this year I had 49 games (I've included expansions) on my Shelf of Shame, which are listed below.
I've crossed out the ones that I've played this year. And to be honest, there is one that I have no intention of playing: the Yahtzee: Walking Dead Collector's Edition that I bought on clearance at Barnes & Noble. I just wanted the cool zombie-head dice cup to store my copy of Zombie Dice.
My goal is to play all of these games by the end of the year and to write about my experiences. Wish me luck!
Shelf of Shame 2017
Agricola
Amerigo
Cheaty Mages!
Chrononauts
Cypher
Dice City: By Royal Decree
Dice City: Crossroads
Doomtown: Reloaded
Dungeon Fighter
Eminent Domain: Microcosm
Epic Card Game
Formula D
Get Bit! Sharkspansion
Guildhall
Guildhall: Job Faire
Hanafuda
Harbour
Imperial Settlers
Lost Legacy: Flying Garden
Machi Koro: Harbor
Marvel Dice Masters: Age of Ultron
Mottainai
Munchkin Legends: Guest Artist Edition
Munchkin Zombies Deluxe
NBA Interactive Card Game
Ophidian 2350
Pack of Heroes
Pandemic: On The Brink
Pathfinder Adventure Card Game: Rise of the Runelords Base Set + Expansions
Pingo Pingo
Portobello Market
Quiddler Mini Round
Rampage
Sail to India
Sans Allies
Santorini: Golden Fleece
Seventh Hero (Doomtown edition)
Space Base Mutiny
Steam Torpedo: First Contact
Suburbia
Sun Tzu
Tiny Epic Kingdoms
Travel Blog
Valley of the Kings: Last Rites
Viceroy
Vikings on Board
Viticulture Essential Edition
Wok Star
Yahtzee: The Walking Dead Collector's Edition