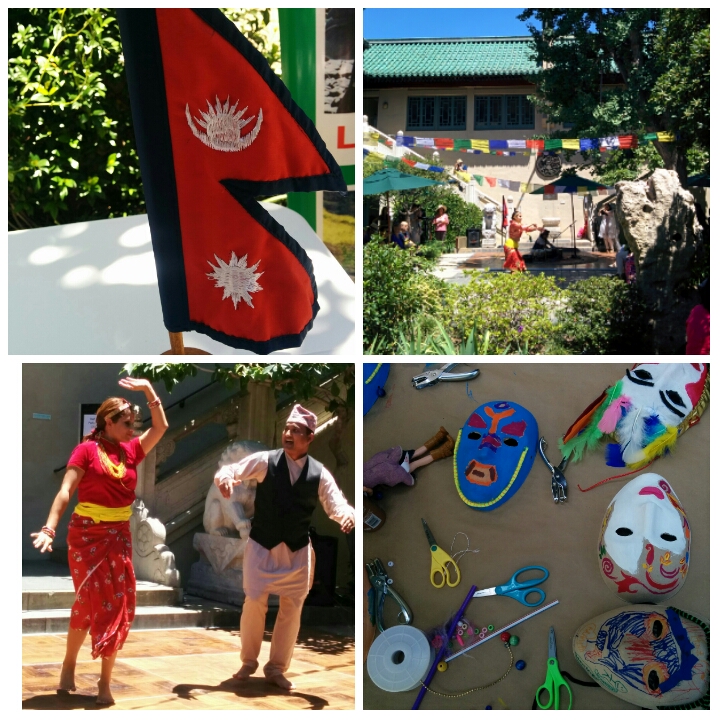 My wife and I love the USC Pacific Asia Museum in Pasadena. We attended a few of their Fusion Friday events last summer and today's Nepal Cultural Festival and Earthquake Relief Fund was our first visit this year.
The festival happened to fall on Second Sunday, when the museum offers free admission. We made the trip before noon and were treated to traditional and fusion Nepalese music and dance. There were a few crafts tables where you could make your own Nepalese mask and one of our favorite food trucks, the India Jones Chow Truck, was there.
Of course, a trip to the museum wouldn't be complete without a walk through the museum itself. We liked the copies of Snakes and Ladders that were available for play; as explained here, the ancient game originated in India and is still played by children today in its modern version, Chutes and Ladders.
We enjoyed the Visualizing Enlightenment: Decoding the Buddhist Iconography exhibition. This exhibit featured a six-foot Buddha wood carving from over 500 years ago, with an explanation of its details.
The weather warmed up as the day wore on, but the pleasant vibe kept everyone in good spirits, as performers and audience mingled and danced together in the courtyard. It was a good-for-the-soul Sunday Funday.