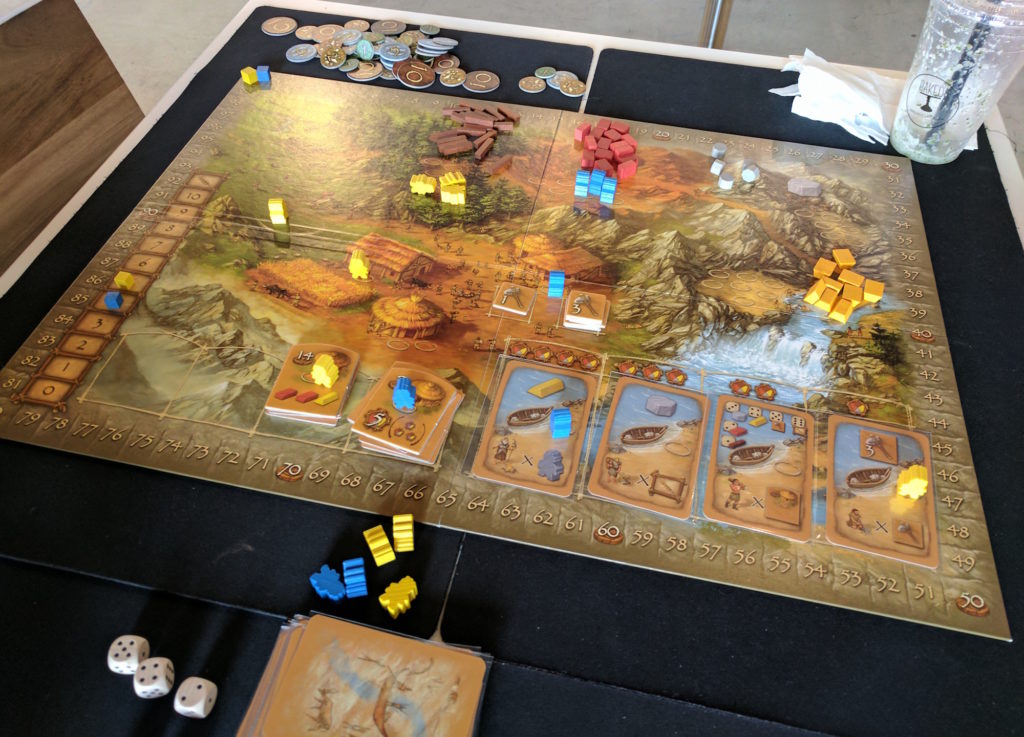 I'm playing a board game every day this month and blogging about it (I did a similar challenge last year). Feel free to join me during my Every Night Is Game Night: My Daily Play & Blog Challenge. And tweet me with what you're playing these days!
---
Last weekend at Kingdom-Con I scored a copy of Stone Age in a trade with my friend Rick. He's a lifelong gamer and ever since I dove into the hobby I've been able to hang out with him more, thanks to our shared love of board gaming. It's fun chatting with him and learning about games.
I actually first played Stone Age with another gaming buddy also named Rick at his birthday gaming get-together. Even though I lost badly in my first attempt I knew it was my type of game: the game flowed quickly and intuitively, with not much downtime between turns, and there were multiple paths to victory.
Stone Age is a classic (are games nearly 10 years old considered classics?) worker placement game. Players are trying to grow their tribes and acquire victory points by advancing their technology, gathering artifacts, and building up their little corners of the world. The meeples represent members of a player's tribe and on each turn they're sent out to one of the spaces on the board.
The workers/meeples can be used to improve a player's tools (basically, extra pips for future dice rolls), add workers (everybody starts with five and if they visit the hut, aka The Love Shack, they'll add a meeple to their tribe), or improve their farming (used to feed your tribe). They can also go to the various areas to gather resources, including wood, brick, stone, gold, and food. The final two options are cards that are bought with resources which yield immediate and end-game benefits and/or points, and tiles (buildings) that give victory points.
Players take turns placing one or more meeples on the board, cards, and/or tiles, depending on how many open spaces are available. After everyone has placed their meeples, they take them back and perform the action; for example, if I placed one of my workers on the tools space, then I'd take my worker and a tool chit, which allows me to add a pip to future dice rolls (only allowed once per turn). Then, my opponents would take one of their actions before I take my second. This continues until all of our workers have taken their actions and have been returned to our player board.
Some people have complained about the dice in this game, but I think it fits in thematically: not every expedition for food or resources will yield something. Players receive one die per worker in an area for resources. For example, if I put two workers in the wood area, then I would roll two dice. If I rolled a lucky 12, then I would divide that by the resource's number (wood is 3) and take that many resources. In this example, my 12 would produce 4 wood. Each resource has a different number based on its scarcity; wood is the easiest to produce while gold is the toughest.
At the end of each round players must feed their tribes. One food per meeple is required; however, if you've been building up your farm, then you won't have to use as much food to feed your tribe. However, if you do run out of food, then you can use any one resource to feed them (no, your people aren't eating wood; you've used that wood to trade for something more edible). If you don't have enough food or resources, then they'll starve this round and cause you to lose 10 points.
There's more to Stone Age than this, but that's the basic gist of the game. The civilization cards are a clever addition to Stone Age: they bring the set collection mechanism to the game as players try to collect the most different icons for an increasing end-game bonus. There are also cards that give bonuses based on the number of meeples, farms, and buildings each player ends the game with.
Today I broke in my copy of Stone Age with my friend Daryl. It was his first time playing it and he enjoyed it as much as I do. It scales down nicely with two, but I think it's best with three or four. It's currently out of print, but the rumors are that Z-Man Games will be bringing it back soon. I hope so: being a caveman or cavewoman has never been so much fun.