I'm blogging every day this month. Some will be game-related, but this challenge is different than my most recent play-a-game-and-blog-about-it challenge. I'm writing a single post every day: no topic guidelines, with some posts being a collection of random thoughts. Click here to read yesterday's post.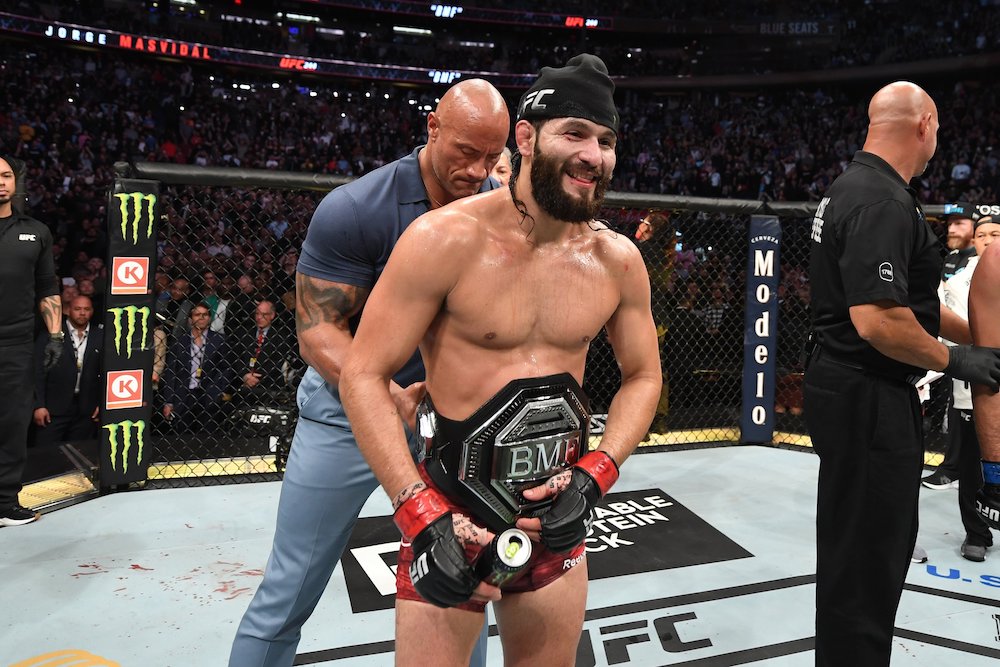 Saturday fight night has been a tradition in my family for as long as I remember. The earliest memory I have of a big fight night was Sugar Ray Leonard vs Thomas Hearns. Like other pay-per-view fights at the time my uncle had a party at his house and we gathered in the den to watch on the big projection TV.
Tonight was a double dose of big fights, but times have changed: everyone I know prefers mixed martial arts over boxing and I was more excited about UFC's non-title fight for the BMF "belt" than the Canelo-Kovalev light heavyweight title. They even brought The Rock out to put the belt on the winner! Ha!
Although the BMF fight was stopped by the doctor after the third round due to a nasty cut on Nate Diaz's eyebrow, it was still entertaining. Jorge Masvidal rocked Diaz several times and definitely won the first three rounds. But everyone knows that Diaz always turns up the pressure in the championship rounds so I was ready to watch a bloody fight get even bloodier. But the doctor had other plans.
And that was totally fine by me.
The fight was terrific, but that cut was nasty. Yes, I've seen doctors let fighters with worse cuts continue (I'll never forget the sight of Diego Sanchez with his forehead split open by B.J. Penn). And I'm sure this fight would've continued if it was in Vegas, but this time it was in New York City. Perhaps they keep a closer look at the participants in the Octagon.
The BMF fight wasn't in Vegas because Sin City was hosting the Canelo-Kovalev fight and to see how times have changed, the two boxers were shown relaxing in their dressing rooms. Kovalev looked like he was gonna fall asleep on the couch. The fight was being delayed until the end of the UFC main event, something that never would've happened 20 years ago.
I'd much rather watch MMA these days than boxing. But there is something special about seeing a boxer like Canelo in his prime land a flurry of punches to end a fight. It was a close fight until the 11th (I had Canelo slightly ahead) and honestly it was a bit of snoozer due to Kovalev's jab-jab-jab style that never put either fighter in danger.
Joyce Carol Oates once wrote, "Like a tragedy in which no one dies, the fight lacking a classic knockout seems unresolved, unfulfilled: the strength, courage, ingenuity, and desperation of neither boxer have been adequately measured."
And just as I was about to proclaim this fight a dud, it ended in a blink of the eye as Canelo hurt Kovalev with an overhand right and followed up with a barrage of punches. The final straight right hand was a masterpiece of violence, dropping Kovalev in a heap into the ropes. The referee immediately called the fight off.
The sweet science had produced another memorable moment, one that, despite the corruption of the alphabet-soup boxing organizations, will have me back at the next big fight.