I'm posting about a game every day in September! Here's a link to yesterday's post.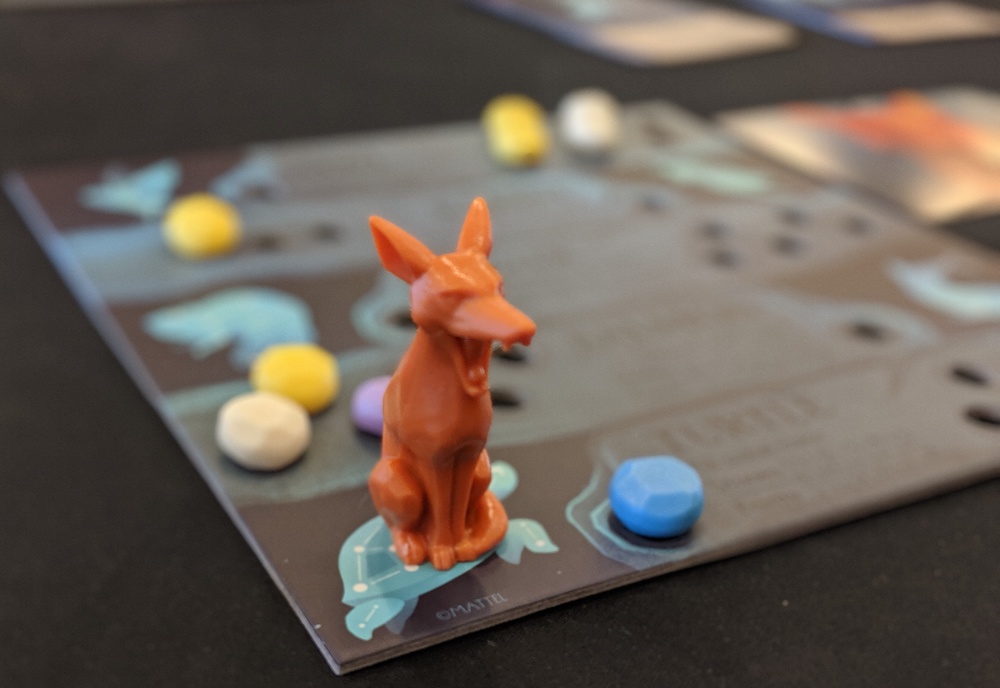 Last month my buddy Daryl introduced me to Spirits of the Wild, a two-player game by Mattel. Yes, that Mattel. The company known for toys, but not for board games. They release popular games like Uno and Apples to Apples, which are perennial big sellers, but not the type that hobby gamers are too interested in playing.
With Spirits of the Wild, my opinion of Mattel has changed. This two-player set collection game reminded me of the excellent Herbaceous, which I absolutely loved. Like Herbaceous, you're trying to collect different types of sets, like all gems of one color, all gems of different colors, pairs of colors, etc. Each are worth different points depending on how far you get in completing them.
The theme is something about animals and their spirits, but it's secondary to the solid game play of Spirits of the Wild. You and your opponent each have the same set of action cards. Choose one and perform the action, which can be taking a stone to add to your scoreboard or adding stones to the supply, or a mix of the actions.
After you've taken three actions, you may reset your actions and take one of the special actions that cycle through the game. I like the action that gives you an immediate extra turn.
When one of the "bad" gems shows up, you can add that to your board, thus blocking off that section, but also giving it double the points at the end of the game. When the fifth bad gem shows up, the game ends.
I liked Spirits of the Wild from the first turn I played. It reminded me a lot of Herbaceous, with its style of set collection and that little bit of push-your-luck. This game, though, has a little take-that, especially when you place the coyote on your opponent's board. The coyote is triggered through certain card actions and it blocks your opponent from placing gems in one of section of their board. To move the coyote, you have to use one of those card actions.
It plays in about 15 minutes and I was pleasantly surprised by how much I enjoyed it. Games that are easy to learn yet provide a deeper experience than other 15-minute fillers can go a long way in establishing Mattel as a quality board game producer.
Spirits of the Wild is sold at Target for $15 MSRP and you can get it for cheaper since Target regularly discounts its merchandise. No matter what price you pay, though, Spirits of the Wild is a bargain.