I'm posting about a game every day in September! Here's a link to yesterday's post.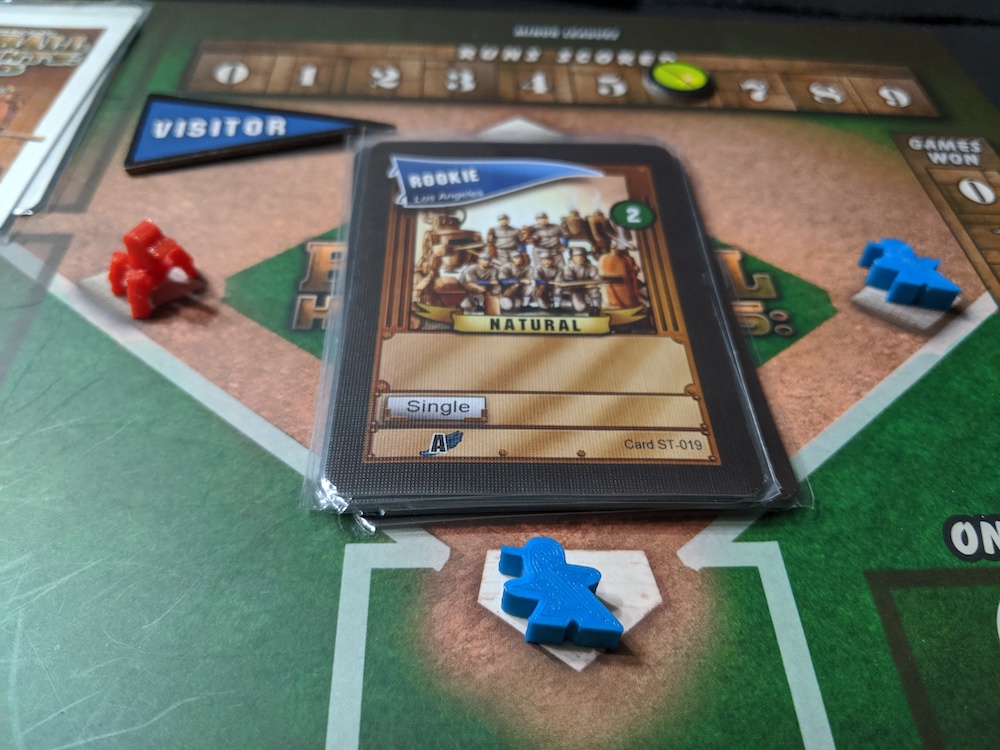 With my hometown Dodgers gearing up for the postseason after winning the NL West for the seventh straight season, today was the perfect day to play Baseball Highlights: 2045.
The game is one of those 2-4 player games that plays best with only two players. I love the feeling of going head-to-head against my opponent in Baseball Highlights; it's like we're both managing our futuristic baseball teams, trying to out-maneuver each other to score runs every game. Tonight I solo-ed the game, which is always a challenge since the AI starts off with a team full of powerful free agents while you slowly cull your deck of starter cards (rookies and veterans). By the way, the pieces you see in the photo above were 3D printed by my buddy Marlon. The actual game uses standard game pawns.
Designer Mike Fitzgerald did an outstanding job of incorporating the deck-building mechanism into the baseball theme. It's remarkable that he distilled all of the action of a ballgame into a mere six cards that you play against your opponent.
I have a few of the expansions to BH: 2045 and while they add some new wrinkles to the game, the original base game is perfectly fine and you'll log many hours playing it against your favorite baseball fanatic.
My nephew is one of those fanatics. He absolutely loves baseball and I enjoy seeing his passion for it. We've played BH: 2045 a few times when he'd visit and I gave him his very own copy for Christmas a few years ago. Although he'd rather play video games or an actual game of baseball these days, I'm glad that he'll still play BH: 2045 with his Uncle Ruel. Maybe one day he'll let me win.