This is Day 9 of my Game-and-Blog-Every-Day-in-November Challenge. Search my blog for "Daily Game Challenge" for previous entries.
7 Wonders Duel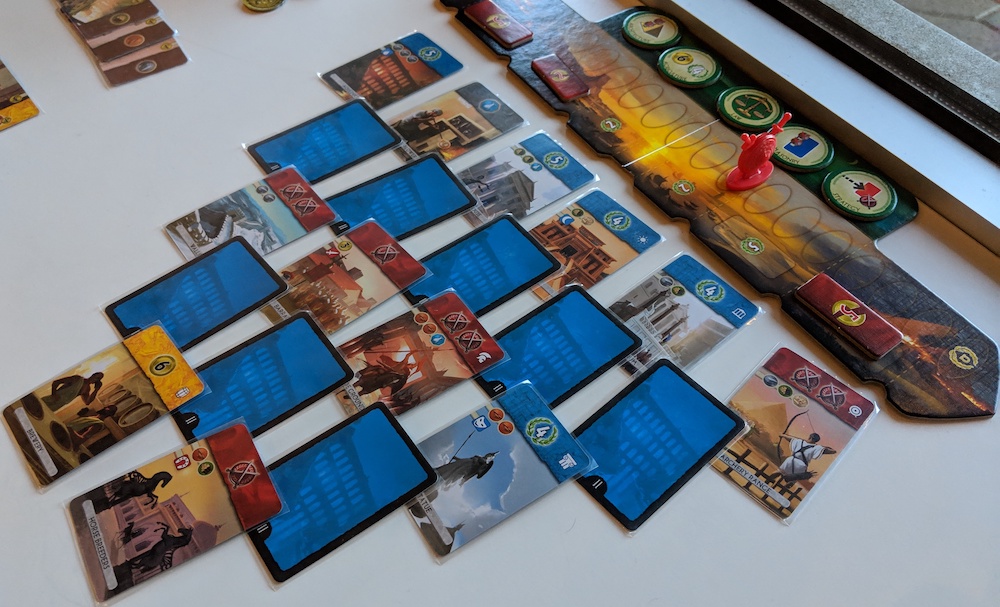 I love the original 7 Wonders game and I thought I'd love 7 Wonders Duel when I played it a few years ago. Unfortunately, it wasn't the best experience.
Still, I bought a copy when it was on sale, based on its stellar reputation alone. Perhaps I'd mis-judged it during that initial play. It sat unplayed for over year, though; it seemed like I'd always find different two-player games to play with my buddies.
Thankfully, my friend Marlon re-taught the game to me and I'm glad I never got rid of my copy. It's a fantastic game for two and deserving of its high ranking on BGG. I've seen the light!
Just like the original, you're trying to build your wonders while also improving your resource production, military strength, and advance in science and technology. I liked how Duel reimplemented military as a tug-of-war, while science was now straight set collection without the funky multipliers.
Right now Akrotiri, Sun-Tzu, The Castles of Burgundy, and Baseball Highlights: 2045 are my go-to games for two players, but this one's being dusted off and becoming a regular part of my two-player rotation.