This is Day 14 of my Game-and-Blog-Every-Day-in-November Challenge. Search my blog for "Daily Game Challenge" for previous entries.
Kingdomino: Age of Giants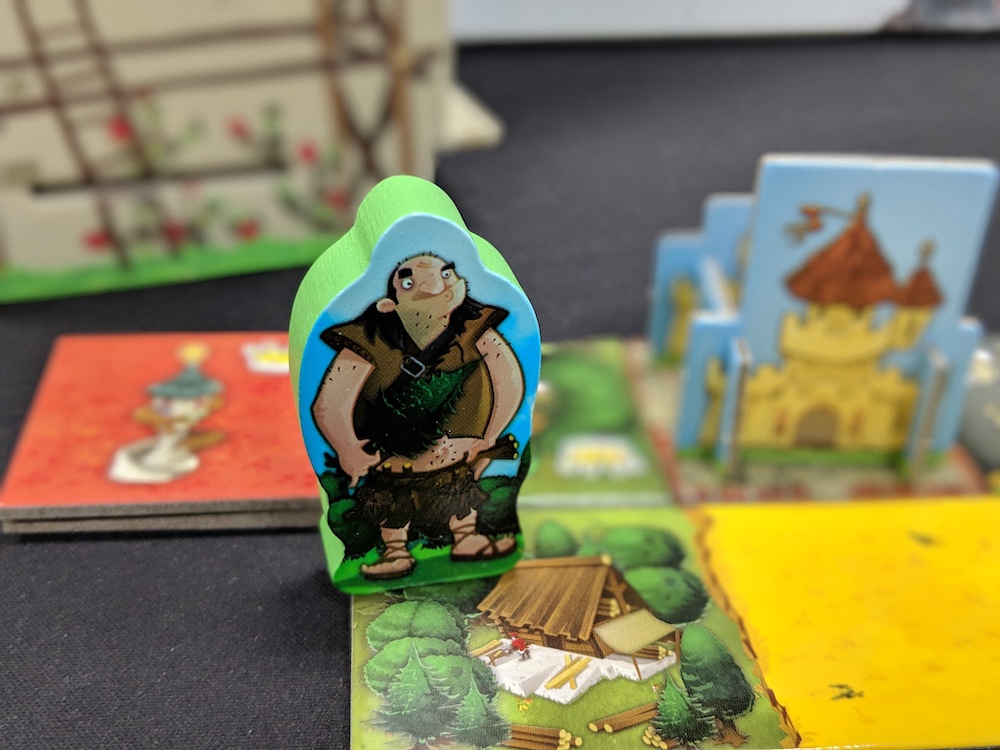 Got to try the new Kingdomino expansion, Age of Giants, tonight. My buddy Jeff introduced me to Queendomino (basically, a more gamer-y version of Kingdomino) last year, so it seemed appropriate that he introduced me to Age of Giants at game night.
In both games you're building your 5×5 kingdom using the domino-style tiles. The tiles are laid out in two columns so after you take one, you place your meeple on the tile of your choice in the next column. Turn order will fluctuate as you and your opponents go for different tiles.
To score points you want similar land types next to each other and you'll need the crown icon on at least one of them to score. The crowns act as a multiplier, so if I had three forest spaces grouped together and there were a total of two crowns on them, then I'd score 3 x 2 for 6 points.
In Queendomino there's an additional type of land where you can construct buildings from a common pool and you'll use knights to generate income. They're simple additions to the game, but it give it a bit more depth than Kingdomino.
The Age of Giants adds two additional types of tiles: those with giants on them and those with footprints on them. If you take one with a giant, then you have to put a giant meeple on one of your crowns, thus eliminating its scoring potential. However, you can take a tile with footprints on it and that allows you to move that giant to someone else's kingdom. It's fun piece of take-that that adds some player interaction.
After playing this I immediately added it to my Amazon wish list. Whether you play it with Queendomino or Kingdomino, Age of Giants is a good expansion for a great (and growing) set of games.