I'm blogging every day this month. Some will be game-related, but this challenge is different than my most recent play-a-game-and-blog-about-it challenge. I'm writing a single post every day: no topic guidelines, with some posts being a collection of random thoughts. Click here to read yesterday's post.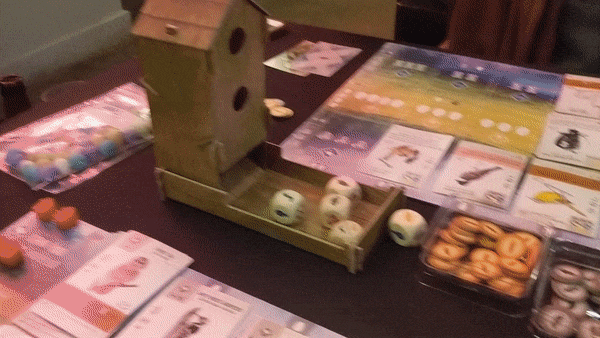 My first play of Wingspan was at Orccon, the first of three yearly events hosted in Los Angeles by Strategicon. I played with my friends Jac and Ben, who taught the game.
I'd passed on Wingspan when it was announced. The pitch was interesting: a game about birds that was an engine builder between Gizmos and Terraforming Mars. Although I'm a big Stonemaier Games fan, I didn't think a lighter Terraforming Mars game about birds would be that great.
I was wrong.
After that first game with Ben and Jac, I played it twice at Dice Tower West and it confirmed that Wingspan was something special. The smooth play and the gorgeous components are Stonemaier staples, and I shouldn't have been surprised by how much I loved this game. But I was.
From the bird feeder dice tower to the beautiful artwork on the cards, Wingspan is a beautiful game on the tabletop. I love that it's more than just a bunch of nice bits, though; the game play is rock solid and features an easy-to-learn ruleset.
When the European Expansion was announced, I knew I'd be the first in line when it went on pre-order. I received my copy last week and after three games (at the two-, three-, and four-player counts), I'm happy with the expansion. It adds just enough new birds with new actions, both during your turn and at the end of the round, to keep the game fresh.
Best of all, everything I've seen while playing the expansion makes for a better and more interactive experience. I love expansions that don't change too much of the base game; I prefer enhancements to the base game and I'm not a fan of expansions that change things so much you wonder if the base game was properly play tested.
While the European expansion isn't essential, I recommend it for fans of the game. The additional abilities and bonuses make it easy to re-learn the game on the fly. It makes a great game ever better.